Kailua Village Artists partners with the Rotary Club of Kona Sunrise.
Every December, Kailua Village Artists (KVA) fundraises on behalf of a chosen local non-profit organization that serves our community. We do this by each making and donating 10+ handmade tree ornaments for sale at our gallery. That would be more than 100 ornaments in total. 100% of the proceeds of these ornament sales goes to the chosen organization. We also host a Holiday Reception, bringing together artists and other members of our community who aim to keep Kailua Kona a great place to live for all.
This year, KVA will be partnering with the Rotary Club of Kona Sunrise. As their club name suggests, this is the group of Rotarians who wake with the birds and schedule meetings at 7 am to plan ways to make Kona and the world a better place.
The Rotarians of Kona Sunrise are focused on youth, scholarships, and international peace. Their local projects are very local, benefiting youths of all ages in our very own zip code. They sponsor an annual poster contest for elementary school kids, "What does peace mean to me?" Students draw a picture about how peace will change their home, school, community, and world. Winners receive small monetary prizes and their drawings are published in a calendar. The Rotary Club of Kona Sunrise also provides for weekly "Meet and Eat" food distribution at Kealakehe Intermediate School, and funds two annual scholarships awarded to seniors at Kealakehe High School.

There is an international component to all of the more than 33,000 Rotary Club chapters worldwide, and it is about promoting non-political, non-religious, non-racial, and non-gender-based understanding, goodwill, and peace among humans. The Rotary Club of Kona Sunrise just recently planted a peace pole at Hale Halawai Park, and is a participant in the Hiroshima Seed projects, which sprouts and transplants seeds from gingko trees that survived the atomic bombing of Hiroshima in during World War II.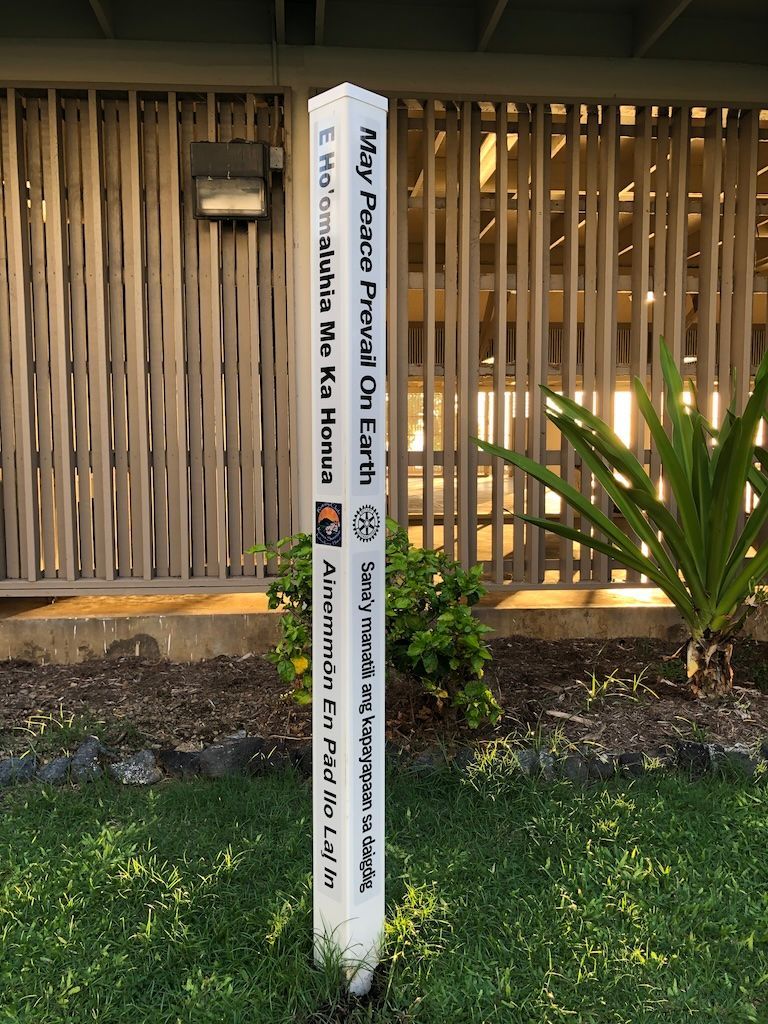 You can read more about the Rotary Club of Kona Sunrise on their facebook page: @KonaSunriseRotary. Visitors are welcome to attend their meetings at Papa Kona Restaurant in the Waterfront Row building on Alii Drive, at 7 am on the first three Wednesdays of the month.
KVA will be kicking off our season of giving early this year. Our Holiday Reception will be held on Friday, December 1, from 5 to 7 pm at the KVA Gallery. The public is invited to join us (all ten of our member artists) for pupus and beverages and conversations about art and community.